About Nekoosa Corporation
The first plant, a foundry, was housed in a 900 square foot building and employed six men. Today our facility occupies 71,000 square feet and employs 60 people.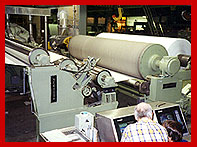 Nekoosa Corporation is comprised of two divisions, Manufacturing and Industrial Supply. Between the two divisions we primarily serve the pulp and paper industry.

The equipment we produce in our Manufacturing Division ranges from complete items such as reels and roll transfer carts to a large variety of rolls, roll coverings and components for paper machines and finishing operations.


In our Industrial Supply Division we've put together a staff of experienced service technicians that help you identify the items you need from our inventory of premium rubber conveyor belt, hoses, wire rope and much more. We also provide convenient shop services, such as, custom rubber fabrication, pulley lagging, hose assemblies and slitting, cutting & vulcanizing conveyor belt.
As a result of our success with the paper industry we've been able to expand our services to customers in Agriculture, Food Processing, Chemical Production and Sand & Gravel operations.